of our clients renewed their partnership with Xperteo in 2018 and 2019
Ongoing duration of our current partnerships
More than 30 hotel openings
LUXURY BOUTIQUE HOTEL WITH A GASTRONOMIC RESTAURANT
in a tourist region with very high seasonality.
AUDIT LEARNINGS AND ACCOMPLISHMENTS

Overall performances:
Hotel performance indicators at the highest and above market levels
Complementary study approach: performance according to room type and seasonality
Concrete change proposals regarding the pricing policy
Accomplishments: 11%-increase in hotel total ADR together with a 6%-growth in the occupancy rate

SEGMENTATION
Good performance in the group segment (low average rates in spite of interesting additional income)
OTA: period overlapping, lesser presence during the low season, low net commission-free average price.
Official website: 10% of overall turnover, room for improvement.

ACCOMPLISHMENTS
Website market share increase to 22% of total turnover thanks to a reshuffled distribution strategy.
Decrease in the OTA share to less than 30% during higher-demand periods
TREVPEC increase (total revenue per client) through a better selection/pricing of the group segment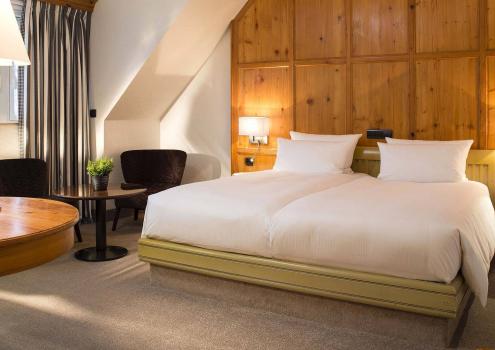 4-STAR HOTEL OF MORE THAN 100 ROOMS, LIMITED CATERING OFFER,
tense and highly seasonal tourist area, influenced by local events.

AUDIT LEARNINGS AND ACCOMPLISHMENTS
Performance indicators (occupancy) already above market levels
Predominant commercialization of the group segment
Activity weakness of the individual segment
Official website activity close to zero

PROPOSALS
Content improvement for distribution and opening of new partnerships
Total reshuffle of the segmented price strategy (pricing and offers)
Reintroduction of ascending yield management processes.
Resort to the leverages specific to each of the online distributors
Implementation of a direct sale strategy (offline and official website)

ACCOMPLISHMENTS
17%-increase in the OCC, 8%-increase in ADR and 17%-increase in revenue
Individual segment growth of 238% (revenue, commission-free)
Official website production increase of 325%
Stay average duration increase of 1.02 overnight
Increase in the booking window
15%-decrease in the cancelation rate
Additional income increase of 79%